Driving Directions to VVR
Directions to VVR from Prather, CA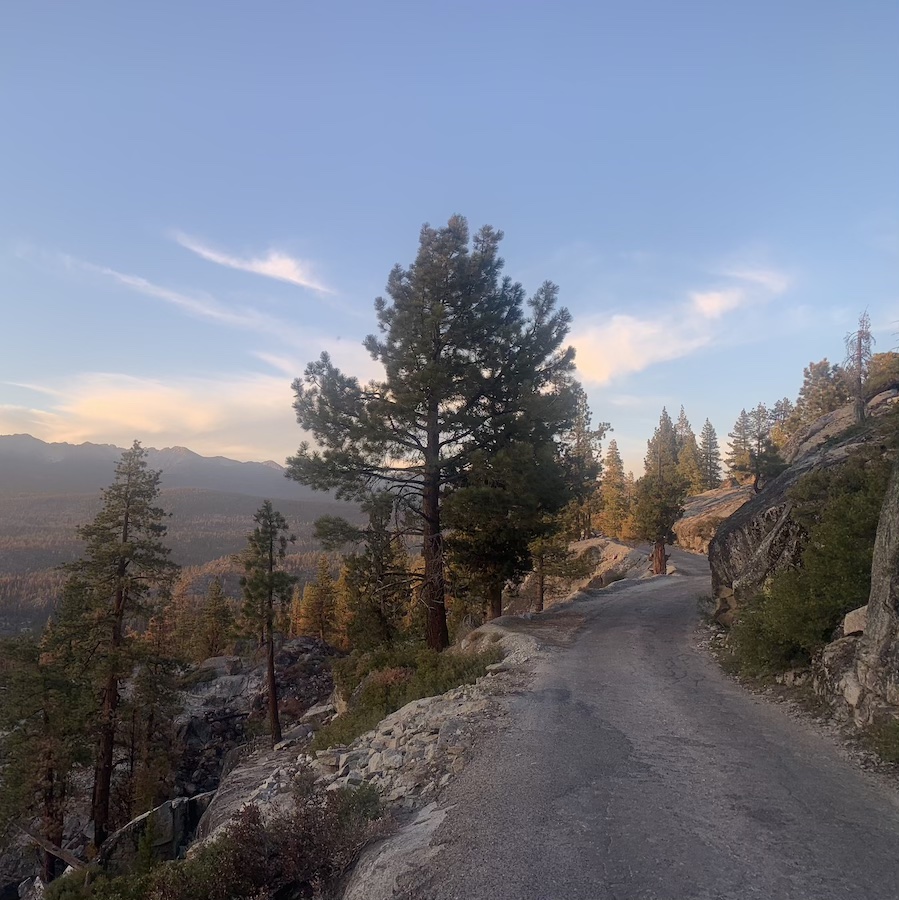 From Prather, take Hwy 168 to the next stop sign.
Turn left and head up the famous "4-lane" for approximately eight miles. Then 168 narrows down again. You will go by Cressman's Store and Texaco Gas Station. This will be the cheapest place to buy gas after you leave the valley.

Continue up Hwy 168 approximately six miles to Shaver Lake, which has several stores and shops (also a nice rest stop). One we recommend is Bob's Blue Sky Cafe - good coffee, espresso, crepes and breakfast!

Continue up Hwy 168 20 miles and you will pass China Peak Ski Resort. As you come into Huntington Lake you will see the sign to Edison Lake (20 miles after crossing Rancheria Creek). Huntington Lake is the last chance for gas or diesel.

Turn right towards Edison Lake (on the Kaiser Pass road) and head up. The road is a good two lane road for approximately six miles.

Suddenly, everything changes. This is the point you will realize why we have a T-Shirt made in honor of a road. The road is safe but can be intimidating. At this point don't be in a hurry. Remember you are on vacation and this is not a timed event. The road narrows to one lane and becomes very winding. After a couple of miles you will go over Kaiser Pass, 9128' elevation.

Continue and after a few miles you will see the back country and the start of the San Joaquin drainage which appears much like Yosemite, but without the cars, traffic, or people. Continue on past a little lake called Portal Forebay. Soon you will pass the US Forest Service High Sierra Ranger Station. This is another good rest stop with restroom facilities. Approximately one more mile you will come to a Y in the road. The right fork goes to Florence Lake and the left goes to Mono Hot Springs and Edison Lake.

You will continue going down hill to the left and cross the San Joaquin River to Mono Hot Springs 6500'. Now you will be heading up hill again through some steep and winding turns. After a couple of miles it will level off and you will be through the tough part.

Continue on to Edison Lake and turn left at the sign at the dam. You will see a sign that says Vermilion Valley Resort 2 miles. Cross the dam and look to your left and you can make out and see the road, and from whence came you. When you come to the end of the asphalt do not continue straight, as this is the So. CA Edison Maintenance Rd. - you will need to jog to the left onto the dirt road. At this point you are 1.7 miles from the VVR. There should be a sign marking this - but they can disappear. Follow the road to the Resort and come on in.