Where trail angels spread their wings.
VVR can be accessed from the JMT/PCT via an additional few miles of trail. Water levels permitting, the ferry transports hikers from the East side of Edison Lake to VVR.
Hiking Directions »
VVR offers a Resupply Package Service for hikers traveling the John Muir Trail / Pacific Crest Trail. Packages can be mailed either UPS/Fed-X or U.S. Mail.
Resupply Service »
A look inside one of our resupply containers.
We are now running our ferry! The cost is $20 per person, one way (max. 5 people per trip) first come, first served. It is best to bunch up in groups of up to five for maximum boat efficiency.
Departing times from VVR are 8:45 AM and 3:45 PM. Check in at the front desk (preferably the night before) to reserve a spot.
Our pick-up point is marked by two orange traffic cones 3/4 of a mile southwest of the normal ferry pick up (with the Bear Box).
Due to currently lower lake levels, we will take you as far as we can and then transport you the last mile to VVR by car.
Pick-up at the back of the lake is at 9:45 AM and 4:45 PM, continuing until all hikers are transported across the lake. Download GPX coordinates for the ferry pickup point.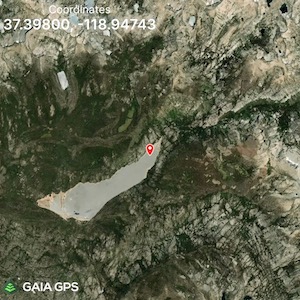 Note: Lake levels are lower in 2022 due to drought conditions, and are subject to change quickly. The ferry will NOT operate in inclement weather (e.g. lightning/thunder or high winds). Feel free to contact us by text or GPS messaging device for the latest ferry information.
A breezy ride out on the lake.
Through-hikers are welcome to pitch their tents or hammocks in our campground—affectionately named Mushroom City—free of charge on a first come, first served basis. Be sure to inscribe your hiker name on our firewood wall during your stay.
You are now entering Mushroom City.
VVR operates a vehicle shuttle to Bear Creek and Bear Ridge trailheads. This is an on demand service, please contact us to schedule a pick-up.
Extended shuttle service between the VVR area and Fresno, CA is operated by Jim Clement at Sierra Mountain Shuttle. Click here for shuttle service details.
Click below for additional information about travel to/from VVR, including airports, rental cars, and shuttle service in the wider Sierra area.
Travel Information »
In addition the above services, hikers can enjoy:
Coin-operated hot showers, towels, soap
Laundry, detergent, and loaner clothing
Wi-fi internet access available for purchase
Massage therapy on site
USB charging stations
Filtered water
Hiker mailbox
Communal food and gear boxes
Water station with advanced filter technology.